What is a VPN?
A Virtual Private Network (VPN) is a way to connect a device (or an entire local network) to a remote network using the public internet. Such a VPN connection provides security and privacy so that the contents of all communication between the device and the remote network remain hidden from the public network.
The most common use of VPN is to connect a remote device to a corporate network with the goal being to protect sensitive data that may be sent or received by the remote device. This requires VPN client software to be installed on the device. When a secure connection is set up over the public internet between the VPN client and the VPN server in the corporate network, the data transferred over this secure connection cannot be decrypted by any eavesdropper in the public internet. From the point of view of the device, it is as if it is directly connected to the corporate network. The diagram below (taken from a wikipedia article on VPN) explains the concept.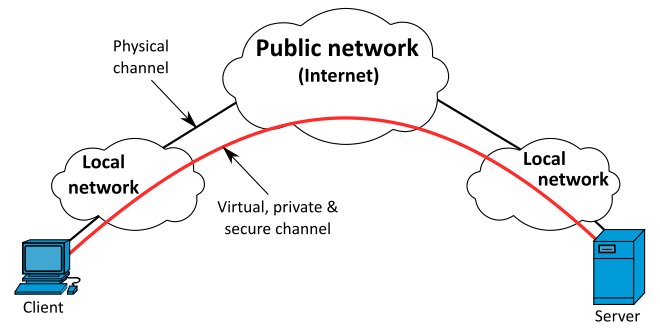 A second common use of VPN is for individual internet users to protect their anonymity or to avoid internet restrictions such as censorship and geo-restrictions. VPN service providers offer to their customers the ability to set up a VPN connection with a VPN server (similarly to how it is done with corporate networks). The customer's device then appears as part of the VPN service provider network. For example, if the customer is located in San Jose and the VPN service provider network is located in Amsterdam, then the customer's device will appear to the public internet as located in Amsterdam. In addition, the actual data transferred between the device and the VPN service provider network are not visible to any of the network operators whose hardware is used to transfer that data.
Why are speed-test results different with VPN?
When a speed test is executed from a device that is connected to the internet via VPN, test packets from the device are transmitted (over the public internet) to the VPN server. Then, from the VPN server, these packets are forwarded to the speed-test server. Test packets from the speed-test server are following a similar route, first to the VPN server, and then to the VPN client on the device.
Speed-test results obtained over VPN are not representative of the actual speeds delivered by an ISP like Sail. That is because the VPN connection introduces additional factors that can cause significant slow-downs and which are beyond the control of the ISP. These factors include additional latency (e.g. for data to travel from the VPN client to the VPN server and then to the speed-test server) and potential throughput restrictions or bottlenecks within the remote network (e.g. corporate throttling policies or VPN service provider network bottlenecks). For these reasons, we always recommend turning off the VPN before running a speed test.